Geshe Lhundub Sopa Wisdom Fund

The Geshe Lhundub Sopa Wisdom Fund was established in order to preserve and publish the spiritual teachings of our precious founder, Geshe Lhundub Sopa Rinpoche. The Wisdom Fund will be used to prepare, edit and publish the large body of oral teachings presented by Geshe Lhundub Sopa Rinpoche at Deer Park Buddhist Center and other places.

During his teaching career spanning over four decades, Geshe Sopa taught numerous important Tibetan Buddhist root texts and commentaries, nurturing the first generation of Buddhist scholars in the West.
Some of Geshe Sopa's teachings have already been published such as his monumental five volume oral commentary on the Lamrim Chenmo, Steps on the Path to Enlightenment by Lama Tsongkhapa.

However, many more of his teachings and commentaries on important treatises such as the commentary on Lekshe Nyingpo and the commentary on Gongpa Rabsel, remain to be published.
These treatises are highly treasured in the curriculum of the Tibetan monastic tradition.

Publication of Geshe Sopa's commentaries will be an important resource for scholars and practitioners in understanding the unique Tibetan Buddhist philosophy, and will serve to nurture
their spiritual development.

The Geshe Lhundub Sopa Wisdom Fund needs your support to ensure that Geshe Lhundub Sopa's scholarly teachings are properly presevered and published. Your kindness and generosity will have a lasting impact in the preservation of our founder's legacy for the benefit of future generations.

By Check
If you would like to make your tax deductible contribution by check, please make your check payable to:
"Deer Park Buddhist Center"
Under memo please designate:
"Geshe Lhundub Sopa Wisdom Fund"
Send to:
Deer Park Buddhist Center
4548 Schneider Drive
Oregon, Wisconsin 53575

By Credit Card / PayPal
Contributions can also be made online using a credit card through PayPal which offers the choice of a onetime or ongoing monthly contribution. If you choose an automatic monthly pledge, please check the box: "Make this Recurring (Monthly)" after you have entered your "Donation Amount".

Please click on the link below to be directed to PayPal.



We thank you for your generosity.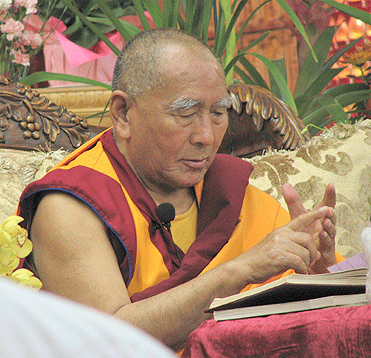 Venerable Geshe Lhundub Sopa teaching in Las Vegas 2006